Melt Calories. Get Fit. Have FUN! That's What Our Classes Are All About!
Our Bootcamps are a year-round co-ed Group Military style training program designed to build strength, conditioning, and Fitness through a variety of intense group intervals over a 1 hour period.
Diamond Mixed Martial Arts Boot Camp training begins with Dynamic Stretching and Running, followed by a wide variety of interval training, including bodyweight exercises (ex. free-Squats, lunges, burpees, mountain climbers, jumping jacks etc.), lifting weights, kettlebells, and other working with other objects (ex. truck tires, water jugs, pulling TRX straps, box jumps and Gymnastic Rings, etc.), plyometrics, and various types of explosive routines and competitive games like tug of war and tire flip races.
These routines are used to lose body fat, increase cardiovascular efficiency, increase strength, and help people get into a routine of regular exercise.
Our Bootcamps Promote Fat Loss, Camaraderie, and Team Effort!
The workouts are designed to push people a little bit further than they would normally push themselves in the gym alone. The team environment provides social support and encouragement to strive to always do better and push yourself to new limits. Participants' Body Fat Percentage, Body Mass Index, Weight, etc., are measured at the beginning of their training and tested periodically to measure progress. This information is recorded and filed for each person and referenced periodically. Fantastic Group Workout!
Ladies Class
This is a year-round on-going Women's only self-defense and Fitness class. You will learn Commando Krav Maga Smart Safe and Commando Krav Maga Self-Defense Techniques from Level 1-4 in this class. There is a heavy emphasis on Boot Camp Training to get you in and keep you in the best shape of your life!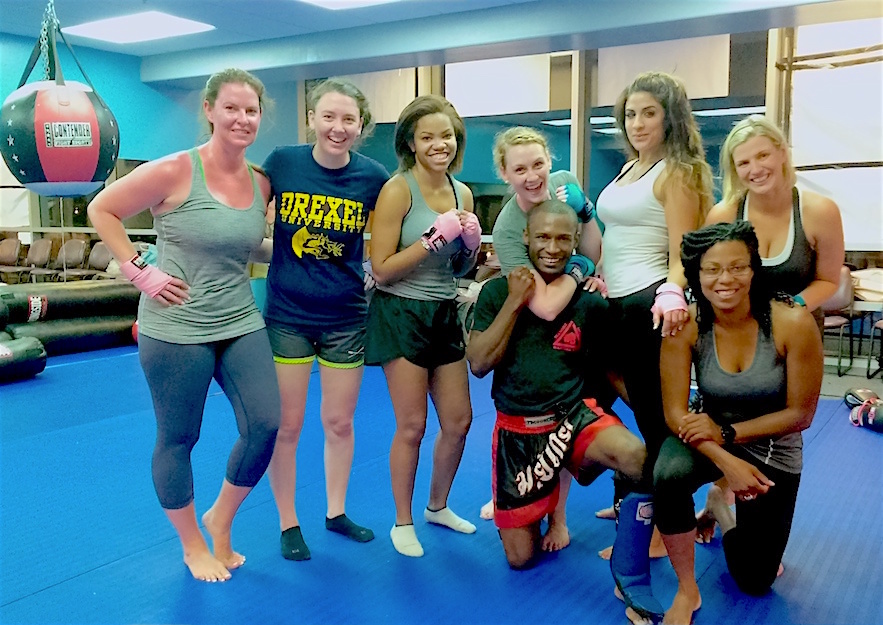 Get Fit Challenge
This is a 6 week course that meets for 3 one hour workouts per week designed to kick start you on your way to a healthy and fit lifestyle. The Paleo Meal Plan is explained and practiced in this challenge. It comes complete with 6 weeks of Shopping lists, daily meal plans, and recipes are provided for the entire 6 weeks. The Get Fit Challenge consists of bootcamp fitness workouts, heavy cardio, and bag work to help propel you on your path to be the best you can be! Participants measurements like weight, body fat percentage, and body mass index (BMI) are taken before and after The 6 week Get Fit Challenge to help measure your success!