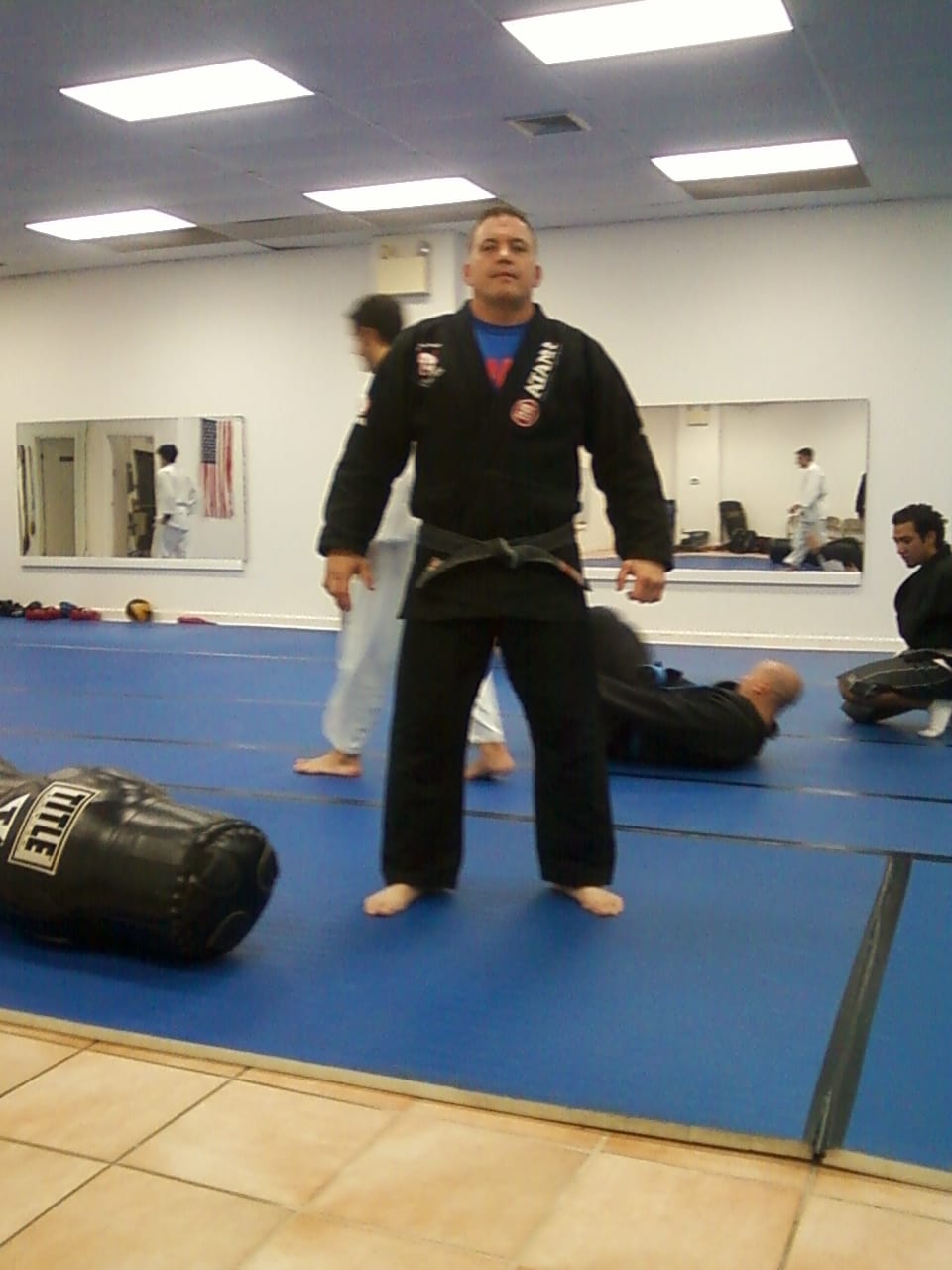 JOE DIAMOND
Gracie Brazilian Jiu-Jitsu, Muay Thai Kickboxing, Krav Maga, and Mixed Martial Arts Instructor
Joe Diamond is the Master Instructor of Krav Maga Elite and Diamond Mixed Martial Arts located in Philadelphia, PA. Master Diamond is a licensed Real Estate salesperson currently working at Long and Foster in Ocean City, NJ. He is currently studying for the NJ Real Estate Broker's exam.
Master Diamond's first experience with martial arts began when he trained at the Veteran's Stadium with Kung Fu Expert and Phillies head trainer, Gus Hefling, alongside Phillies players: Mike Schmidt, Steve Carlton, Tug McGraw and John Vukovich, Master Diamond's uncle. He continued his martial art training at the age of 12. He loved the workout and the confidence it gave him for protecting himself, family and friends. Upon achieving his Black Belt, he knew that Martial Arts would help develop a healthy lifestyle that made him stronger and confident. It became his passion to make it an essential part of his life.
Master Diamond is a Level 3 US Army Combatives Instructor and has taught Combatives and Brazilian Jiu­jitsu to enlisted and reserve soldiers for several years at Ft. Dix, NJ, Ft. Benning, GA, The Burlington Armory, NJ and ROTC Programs at local universities. Master Diamond is also a Level 7 Certified Instructor in Commando Krav Maga under Moni Aizik, world-renowned Krav Maga expert. Master Diamond has taught law enforcement officers and military personnel from the following: New Jersey State Police, US Air Marshalls, FBI, US Army, US Marines, US Navy Seals and several local law enforcement agencies.
In 2011, Master Diamond finished first at Moni Aizik's Commando Krav Maga Bootcamp out of 15 instructor candidates who participated and was recognized by Moni Aizik for outstanding achievement at the boot camp. He also finished first at the 2012 and 2013 camps as well.
Master Diamond attained his 2nd Degree Black Belt in Brazilian Jiu­ Jitsu under 7th degree Red Belt, Luiz Palhares in 2008, and Rickson Gracie, undefeated Champion of the Gracie Family, and 8th degree Red Belt. Gracie is the older brother of Royce Gracie, 3-time UFC champion. Professor Diamond was then promoted to 3rd degree Black Belt on 8-11-17 by Master Luis Palhares, 7th degree Coral Belt. Master Diamond was a member of the Rickson Gracie International Competition Team for 10 years. He became certified as the Official Representative of Rickson Gracie in 1996 after an intense tryout where he finished first out of 18 candidates. He traveled back and forth to Rickson Gracie's school in Los Angeles, CA for a period of 10 years to train with Rickson Gracie. Master Diamond's blue, purple and brown belts were received directly from Rickson Gracie.
He traveled to Japan with Rickson Gracie for Pride 1 and Pride 4 after receiving an invitation by Rickson to be in Rickson's corner. During those trips to Japan, Master Diamond trained at the Kodokan, World Headquarters for Judo.
Master Diamond received an award for Best Technical Ability from Rickson Gracie at the International Jiu Jitsu Championships at UCLA in 1997 where he took a gold medal. He also received an award from both Rickson and Helio Gracie for Dedication to the Development of Jiu­Jitsu at The Tournament.
Master Diamond achieved his certification as a Kru Master Teacher of Muay Thai Kickboxing by Sakasem "The Punisher" Kanthawong, formerly known as "Sakasem Fairtex," who was one of the original Fairtex Fighters/Instructors to come to the United States from Thailand. Sakasem taught the art of Muay Thai along with Bunkerd Fairtex and Ganyao Fairtex, who all taught at the first Fairtex USA in Phoenix, Arizona. Sakasem"The Punisher" Kanthawong has over 200 fights and is a 3 time World Muay Thai Champion.
Master Diamond has made various trips to Thailand to train with Phillip Wong, Yodsaenklai Fairtex, Kaew Fairtex and many other Fairtex fighters and trainers. He also trained at Sawpunjit and Sidyatong during his stay. He traveled and trained with Saekson Janjira on another trip to Thailand.
Master Diamond has trained under Grandmaster Duk Sung Son, President of The World Tae Kwon Do Association in New York, NY which has helped him to attain his 5th Degree Black Belt in Tae Kwon Do.
Master Diamond's boxing experience comes from being trained in the Sweet Science of Boxing by Pat Doran and Virgil Hill, 5 time World Champion and Boxing Hall of Fame Inductee.
Master Diamond has trained many fighters for MMA, Jiu­jitsu, Submission Grappling and Muay Thai events, including Doug Anderson, star of the Discovery Channel show, "Fight Quest." Doug started training with Professor Joe when he landed a job on the show. He trained at Diamond MMA while filming episodes for Fight Quest. He has also trained: Tim Ragusa, who is a Brown Belt assistant instructor currently still training with Professor Diamond. Tim is also a championship Belt winner of the Pro MMA event, "Locked in the Cage." He has been training at Diamond MMA for nearly 10 years. Stan Moelius is a Purple Belt instructor currently at Diamond MMA. He is 3 and 1 in the cage, having fought in Cage of Vengeance, Combat in the Cage and several other events as well. Troy Maxwell, who is a Championship Belt Winner of New Breed Fighters, Pat Stano, who fought UFC champion Dan Severn to a draw, UFC fighter and Ultimate Fighter show participant Andrew Riddles, WEC fighter Anthony Morrison, who got his start with Master Diamond earning his Blue and Purple Belt, and has won the Caged Fury and several other MMA events. Professor Larry Norman got his foundation training with Professor Joe Diamond in his first 2 years but later received his Black Belt from Professor Ricardo Almedia. Balance Brown and Black Belts Rick McCauley, Dom Cosenza, James Chiarello, Bobbi Palumbi, Dan Ramirez and 2012 Ultimate Fighter Show participant Tim Williams all got their Brazilian Jiu­Jitsu foundation for their first several years with Professor Joe Diamond (IBJJF and USBJJF Certified Black Belt Instructor). Other fighters he has trained include Alan Wright who is in the professional grappling league, Sharif Jones who fought for Caged Fury and Desmond Walker (a Bellator fighter).
Master Diamond was a co-­promoter of Vengeance MMA, the first sanctioned MMA event in Philadelphia at the legendary Blue Horizon. He was also the NJ licensed Promoter of several Cage of Vengeance sanctioned MMA events in New Jersey.
Professor Joe Diamond was featured in the book "Inside The Combat Club:
Memoirs of a Submission Wrestler " by Anthony Argyros. Professor Joe was featured in Chapter 2 titled: Diamond Tough. Anthony Argyros referred to Joe Diamond as a submission grappler and Brazilian Jiu Jitsu fighter who dominated the 2000 season and won the Grapplers Quest National Championship in the expert division at 209 lbs. This was published in July 2008.
Joe has trained:
Doug Anderson-star of the HIT TV Series on Discovery Channel, "FIGHT QUEST". Doug trained at Diamond Mixed Martial Arts (ACMMA Fight Team) when he landed the part on FIGHT QUEST. He continued training his training with Professor Diamond for 2 years while filming the episodes for the show and after the show was concluded. Doug had several fights after the show was finished and always represented ACMMA well.
Brian Cimins, owner of The Grapplers Quest Tournament Circuit. He trained at Diamond MMA while at the Richard Stockton College of New Jersey.
Jim Fortunato, owner of The Good Fight Tournament circuit trained with Diamond MMA for 2 years earning his Blue Belt.
Kevin Poznek, owner of KPOZ Martial Arts in Sewell, NJ. He trained under Master Diamond for 3 years, earning his Blue Belt and Muay Thai Shorts.
Rick McCauley, a local Champion Brazilian Jiu­jitsu Black Belt trained with Master Diamond for his first 2 years, earning his Blue Belt.
Dave Clemens, of Medford Brazilian Jiu­jitsu, trained with Professor Joe for 3 years, earning his Blue Belt.
Brad Daddis, owner of Daddis MMA has MMA studios in Philadelphia, Cherry Hill, and Hamilton. Brad trained with Diamond MMA for 2 years and earned his Blue Belt from training with Professor Joe Diamond.
Pat Stano located in Vorhees, NJ received his Purple and Blue Belt.
Dan Dixon, owner of Milville Brazilian Jiu Jitsu which is located in Milville, NJ. Received his Blue, Purple and Brown Belts from Professor Joe Diamond. Professor Diamond taught periodic seminars and conducted belt testing at Dan's school for several years.
Chris Antonucci, owner of Gold Hawk Martial Arts which is located in Little Egg Harbor, NJ received his Purple and Blue Belt after training for 4 years with Professor Joe Diamond.
Jose Tabora is the owner of Bullpen in Egg Harbor Twp., NJ. He trained with Professor Joe Diamond for 12 years from 1993 to 2005, earning his Blue and Brown belt during this time period.
Mark Jons received his Black and Brown Belt from Professor Joe Diamond.
Shane Streater received his Black, Brown, Purple, and Blue Belt from Professor Joe Diamond.
Arnoldo Leggi received his Black, Brown, Purple, and Blue Belt from Professor Diamond
Kiyoe Mori received her Blue, Purple and Brown Belt from Professor Diamond.
Jovan Mena received his Purple and Blue Belt from Joe Diamond.
Anthony Morrison received his Purple and Blue Belt from Joe Diamond.
Here are some of the awards Master Diamond has earned:
Gold Medal 1994 Connecticut State Judo Championships
Silver Medal 1994 Liberty Bell Judo Championships
Gold Medal­1995 East Coast Gracie Jiu­jitsu Championships
Gold Medal at 1997 International Jiu­jitsu Championships at UCLA
1st place 1998 National Jiu­jitsu Championships in Baltimore, Maryland
1998 Shootfighting Champion in Baltimore, Maryland
1999 World Combat Championships (NHB) 1st place
Silver Medal 2000 International Jiu­jitsu Championships at UCLA
Gold Medal at 2000 Pan American Jiu­Jitsu Championships
2000 Grapplers Quest National Champion Expert Division
2000 NAGA Super fight vs. Jeremy Horn (Joe fought an 11 minute war with one of UFC's top fighters.)
IFC Fighter
2002 NAGA Silver Medalist
2003 NAGA World Champion Expert No­Gi Winner
USA Martial Arts Hall of Fame Inductee in 2003 and 2004
2004 Grapplers Quest Nationals Bronze Medalist
2005 Vengeance MMA winner
2005 UCG Superfight Champion
2006 Combat in the Cage Winner
2007 Ring of Combat Fighter
2007 North American Grappling Championship Champion Expert Gi­
Championship Belt Winner
2008 Ring of Combat Fighter
2008 Grapplers Quest Nationals Expert No Gi Champion Championship Belt Winner
2010 Renzo Gracie Tournament­Silver Medal Black Belt Heavyweight
Professor Joe has trained fighters belonging to these Mixed Martial Arts Events:
UFC
WEC
Caged Fury
Combat in the Cage
Bellator
Professional Grappling League And many more.
List of Certifications of Master Diamond:
Certified Official Representative Instructor of The Rickson Gracie International Jiu-jitsu Association 1996-2005 (10 years) certified by Rickson Gracie
USA Martial Arts Hall of Fame Inductee in 2003 and 2004
5th Degree Black Belt in Tae kwon Do
Certified IBJJF Brazilian Jiu Jitsu Academy Registration #2088
2nd Degree Black Belt in Gracie Jiu Jitsu (2007)
IBJJF and USBJJF Certified Black Belt Instructor
Kru Instructor of Muay Thai Kick Boxing
Brown Belt in Judo
US Army Combatives Level 3 Instructor
Certified Instructor Level 7 Commando Krav Maga
3rd Degree Black Belt in Gracie Brazilian Jiu-Jitsu (2017)
Master Diamond has trained many in the Military and Law Enforcement for over 20 years including:
US Navy Seals
Israeli Defense Forces Special Operations Unit
US Army US Special Forces
US Air Marshals
NJ State Police
PA State Police
(And many more.)
List of Professional Fighters/Instructors that have trained at Diamond MMA:
Rickson Gracie
Royler Gracie
Sakasem "The Punisher" Kanthawong, formerly known as Sakasem "Fairtex"
Luiz Palhares
Megaton Diaz
Luis Heredia
David Adiv
Rolls Gracie
Rich Franklin
Virgil Hill
Rashad Evans
Chris Saunders
Andrew Riddles
Tim Williams
Dan Severn
Eddie Alvarez
Ray Mercer
Anthony "Cheesesteak" Morrison
Doug Anderson
Moni Azik
Pat Stano